FOR IMMEDIATE RELEASE
Burning Brigid Media Announces Launch of Synesthesia Theatre,
an Audio Drama Anthology Podcast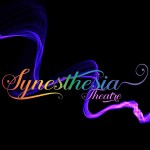 Chicago, IL – March 3, 2016. Chicago-based media production company Burning Brigid Media has launched Synesthesia Theatre, an audio drama serial anthology podcast. Their first serial is an adaption of the steampunk western novel Iron Horses Can't Be Broken by Michael Coorlim.
Synesthesia Theatre is conceived as "cinema of the mind," dedicated to telling engaging stories through well-crafted writing, performances, and sound effects to evoke a cinematic experience in the mind's eye. Burning Brigid Media is producing full-cast audio drama serials six to twelve episodes in length, starring professional actors from Chicago's theatre and independent film scenes. Each episode will run "commute length," between 20 and 30 minutes long. Storylines and genre will vary from serial to serial, but the production company's focus on fostering representation and the normalization of diverse casts in entertainment media will be prominent.
Iron Horses Can't Be Broken, the first serial featured on Synesthesia Theatre, is a steampunk western. British detective Alton Bartleby scours the American West searching for Sarah, the sister he abandoned ten years prior, accompanied by the man she left at the altar. Nothing can prepare him for what he finds… or who she's become.
"At first, the story seems to play toward the standard patriarchal attitudes of the early 1900s American Southwest," explained Kat O'Connor, Co-Founder and Chief Visionary of Burning Brigid Media. "But it then subverts those expectations, revealing there is much more going on than meets the eye. There are several surprises in store for both the characters of the story and the listeners."
"The novel adapted itself well to the audio drama format," commented Michael Coorlim, author of the source novel and scriptwriter of the adaptation. "But really, I think that the strength of the serial comes from the skill of the actors. These are some top-tier talents delivering amazing performances."
The Synesthesia Theatre podcast is available through iTunes, Libsyn RSS, and Burning Brigid Media's website. Synesthesia Theatre is possible through a fan-supported arts model. For more information, visit burningbrigid.com/synesthesia-theatre.
Burning Brigid Media is a Chicago-based entertainment media production company. Its mission is to contribute to a cultural shift through narratives that normalize stories about the traditionally marginalized: women, minority, and LGBT characters presented as people rather than genres. We create honestly entertaining diverse stories about people, who are people, instead of caricatures. For more information, visit BurningBrigid.com.
Contact:
Kat O'Connor, Co-Founder
podcast@burningbrigid.com
Media Kit
# # #