While we are still very early in the pre-production process (we're calling it "pre-pre-pre-production"), we met with our talent last night so we could catch everyone up on where we are in the process.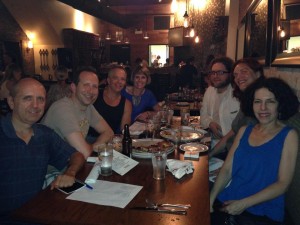 In spite of the various obstacles we've had to deal with bringing this series to fruition, everyone is still really excited about seeing it through. There is a ridiculous amount of talent sitting at this table, all ready to contribute however we can.
We brought everyone up to date on various administrivia, and then discussed outreach and fundraising plans. The pizza and bruschetta were pretty amazing too, so I can whole-heartedly recommend Sono Wood Fired Pizza for your pizza needs.
Stay tuned for our first Sleep Study trailer!