The Chicago indie community teems with creative powerhouses. Recently we met Deborah Craft, Marketing Director for Fake Geek Girl Productions, and got to talking about their upcoming web series. Anchored by an ensemble cast of women (plus a token guy!), Space Happens is an off-beat, geeky, sci-fi comedy. We asked a few questions about the production company and the show: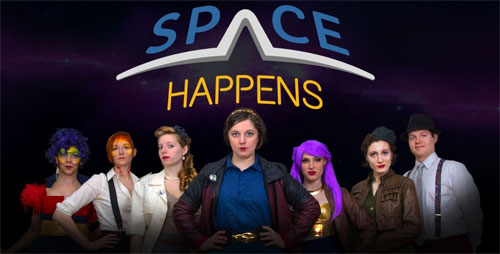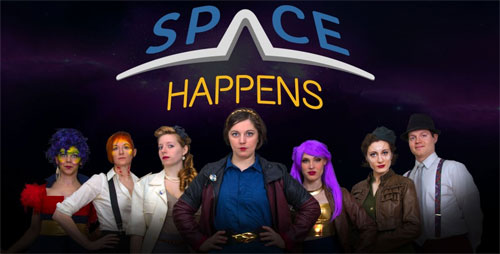 How did Fake Geek Girl Productions start?
Fake Geek Girl started as the brain-child of Nicole Keating. She'd been blogging under the moniker The Fake Geek Girl for a couple years, and so it was a natural choice for the nerdcentric media production company that the Space Happens team decided to form!
Tell us about Space Happens. What's it about?
Space! Comedy! Ladies! Mostly Epic Proportions! Space Happens tells the story of Joy Jones, an earnest-yet-clumsy chick who knows she's born to do Something Extraordinary and who has no idea that makes her sound like an asshole.  During a particularly Epic Battle, she "appropriates" (read: steals) a smaller ship, the Janeway, that's being stored on board to make her escape and avoid, you know, death.  She styles herself as captain, forms an all-female (with a token guy!) crew of total losers largely by accident, and ends up among our fave sci-fi tropes–aliens, androids, plots to destroy the universe…She is in way over her head, and she's about to take her misfit crew with her. Will she bring them together in time?!??!!!  Probably.  Hey, it's sci-fi, so that's not even a spoiler.
Where did the idea for Space Happens come from?
So, there's this party. Nicole, Aly, Mel, myself, and a few other future Space Happens collaborators get to talking about a web series idea Nicole had.  She'd long mourned the lack of female voices in sci-fi shows (and comics and D&D and gaming and in everything that geek culture is built on) and as a veteran of the Chicago stage knew that if the hole isn't being filled, fill it yourself.  Entendre intended. So she had dreamed up a serialized sci-fi comedy led by women both on and off camera, poking fun at all the sci-fi tropes we love to hate (cocksure captains, green-skinned space babes, terrible special effects) while also making really fallible, funny, fucked-up female characters.
We were all laughing about it, just having a good time tossing ideas around, but eventually got caught up with other conversations and friends.  The next day or week or…sometime near the party…I sent out an email saying why not do this?  Let's just DO this.  And so, Space Happens and Fake Geek Girl Productions was officially born!!
Who are the people involved in Space Happens?
Oh, boy!  Are you ready for this?  We have our intrepid leader and CEO, Nicole Keating, who also plays Security Officer Mildred; our task-master and COO Melissa Fox, who also plays our Pilot Scarlett; I am the Marketing Director and play Communications Officer Barbara; Aly Grauer plays our fearless leader, Joy; Sarah Mayhan-Tran plays our android-mechanic Pauline; Claire Hart plays the slightly uppity Doctor/First Mate Janet; and Nathan Thompson who is the FGGP Content Director and plays the Counselor/Bartender and Janet's husband, Wayne.  In addition to these fine folks we have several writers who collaborate regularly. Nicole, Mel, Nathan and myself are writers as well as Laura Nash, Elizabeth Rodriguez (who is also the FGGP Executive Editor), and Justin Lieber.
Have you worked together before?
We are all connected primarily through Nicole.  The actors in the group all met working with Piccolo Theatre in Evanston which is a group specializing in comedy and where Nicole, Aly, Claire, Nathan, and myself have all been/are company members.  Nicole is the binding agent there for all of the performers who share interests in the geek world.  Laura and Justin have known Nicole since their Northwestern University days, and Elizabeth and Nicole have been collaborating on comedy entertainment since high school.  Yep!  That's right. Mothafuckin high school.
When and where can we look for Space Happens to premiere? How do we keep updated in the meantime?
We start airing episodes on YouTube in the fall.  We'll air one a week, just like real TV!  In the meantime, like us on Facebook and follow us on Twitter @SpaceHappens to keep up with the fun!!