Doug plays "Luther Koning" in Synesthesia Theatre's first serial, Iron Horses Can't Be Broken. Luther is a simple man who tends to get in over his head; who loves and fears his brother, the volatile Governor Robert Koning; and is engaged to Florence Bartleby at his brother's behest.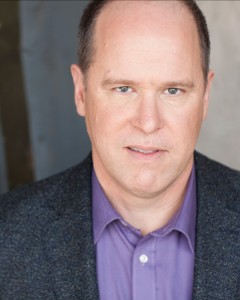 Doug Schuetz is a voiceover artist in Chicago IL specializing in voiceover from projects like Iron Horse to coffee urn cleaning product how-to videos. He performs in the local theatre scene as well as local indie films.  He will be performing with The Artistic Home and their annual Old Time Radio Show Style production of Miracle on 34th Street through the holidays. He has been recently seen at the Citadel Theatre's production of the farce Don't Dress for Dinner and the Newspaper One Acts at Jackalope Theatre. Past productions include Her Story Theatre's production of The Johns as Chase; Welch in Damn Yankees with Light Opera Works; and Pastor Bob in Doubting Thomas at Clockwise Theatre. Other roles include Roxy in Golden Boy with Porchlight; John Roy in the drama Good Thing; and Doc in the farce Leading Ladies at the Buffalo Theatre. He is a cat person, get over it.
In February Doug will be on set for a Columbia College Practicum Film called An Apprenticeship, directed by Galen Wallace. And in April you can catch him at Piven Theatre in Evanston in Dead Man Walking. He also continues to do voiceover work regularly.