C.J. plays "Robert Koning" in Synesthesia Theatre's first serial, Iron Horses Can't Be Broken. Robert is an American industrialist, governor of the newly-formed state of Arizona, and an unrepentant and frequently brutal cultural imperialist.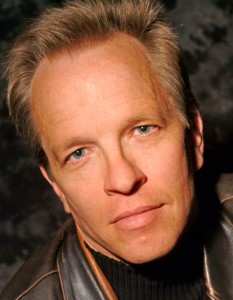 When not toiling to achieve the best in bad acting, C.J. spends his time advising the shadow government as to how best perpetuate the human race in the coming post-apocalyptic world. When he emerges from the government's fortified Appalachian bunkers, he devises potential cures for Chikungunya, attempts the incomprehensible task of reconciling art & commerce, completes the New York Times crossword, hunts game fish in the azure waters of the Caribbean, teaches the best practices of wealth creation to folks around the country, and takes time to press wild flowers, all while juggling pesky calls from various world superpowers.
Iron Horse Can't be Broken is his latest endeavor, much to the chagrin of listeners near and far. Having cut his acting chops (also referred to as scenery chewing and/or script mangling to those in the know) in Deathtrap as Sidney Bruhl, Misery as Paul Sheldon, South Pacific as Luther Billis, Arsenic and Old Lace as Mortimer Brewster, and The Devil and Daniel Webster as Mr. Scratch (typecast as Satan himself), C.J.'s "talent" has undoubtedly plumbed new, uncharted depths in this radio serial.
With his "acting" an obviously painful experience for everyone, C.J. redirects his petulant energy to directing theatrical productions and corporate video. Hard as it may be to believe, he has directed many well-received shows, including The Last Days of Judas Iscariot, End Days, Den of Thieves, One Flew Over the Cuckoo's Nest, Picasso at the Lapin Agile, Dangerous Liaisons, Animal Farm, Hellcab, Escanaba in Da Moonlight, A Flea in Her Ear, Escanaba in Love, God of Carnage, and the world premiere of the epic musical, Zenobia, also written by his saintly wife, Lorrisa Julianus.
With a perfect face for voice-over work, you may recognize his baritone warble from shilling products on television and radio. He is also Co-President of Theatre-on-the-Hill, which takes up just a little of his time.