Bill plays "Parker" in Synesthesia Theatre's first serial, Iron Horses Can't Be Broken. Parker is the town barber, whose laid-back demeanor belies his savvy in navigating the pitfalls of a small company town.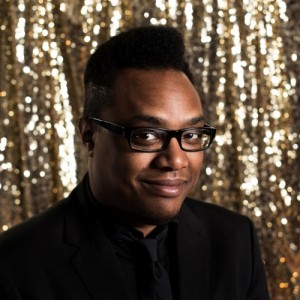 Bill Bullock has been performing all over Chicago and beyond for over four years. Bill's brand of comedy revolves around raucous, confessional, and personal (sometimes very personal) storytelling. Mix that with a neurotic self-awareness and an extremely opinionated wit, and you have a comic who can appeal to all types of audiences. He has performed in nearly every room of note in the Chicagoland area, including Arguments & Grievances, Entertaining Julia, The Bronzeville Comedy Showcase with NPR's Brian Babylon, The Nerd Comedy Festival at Stage 773, and Zanies Rosemont. He has been accepted into Gilda's Laugh Fest in Grand Rapids, MI, The Chicago Nerd Comedy Festival, headlined the Drop Comedy Club in South Bend, IN, and most recently was selected to host at the Comedy Club on State in Madison, WI for the recording of Comedian Shane Mauss' newest hour special.
In addition to this, he is an experienced show producer and host. He is currently co-producer and co-host of two wildly popular showcases in Chicago's hip Logan Square, and the host of one in Wicker Park.
Congrats on Your Success (now in its third year) is a rollicking standup showcase, packing huge audiences into a tiny local bookstore. Chicagoist called it "Logan Square's favorite comedy showcase." And the Chicago Reader called it "the original comedy-show-in-an-unexpected-location."
He is also one of the minds behind the episodic variety show Cole's Chicago Cabaret, which finished its first run in November, and entered its second season in February. This late-night style showcase features standup comedy, plus variety acts like operatic singers, mentalists, and rapping-violinists. Chicagoist said it aims to be like "The Ed Sullivan Show but with more glam and poignant filth."
Bill is also a featured performer in ACTUAL MURDERERS, a new sketch comedy team backed by the minds behind Chicago Underground Comedy (ChUC).
In 2015 Bill was named Best Comedian in Logan Square by LoganSquarist.com
If you need him, he'll be at the bar.