The end is (finally) in sight!
We have perhaps been a bit too quiet in regards to our creative work here, but we have been very busy. Our first audio play, Simple Harmonic Motion, has been in production and post for the past several weeks; while simultaneously we are writing scripts for the first mini-series for the Synesthesia Theatre audio drama podcast.
My focus, in particular, was on planning and learning how to make the best quality audio we can. I am not an audio engineer by any means, so I've been spending a lot of time on what, for me, is a fairly steep learning curve.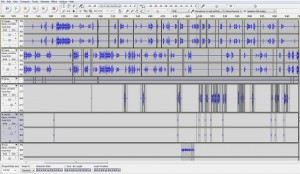 Some things are obvious; for example, if you want to process different voices / characters to have different effects, those vocal tracks will have to be recorded separately and mixed together in post.
Some things are less obvious. I think the biggest challenge for me was learning how to think about sound in an entirely new way. In a podcast, it's not background, nor even background enhancement. I had to consider things like: how do I get rid of background noise? How does sound change when it becomes more distant? How do you break down a sound effect into its component parts? How does pacing affect tension and emotion? What's the technical process for achieving the effect I hear in my head?
As of today, however, we have a nearly-finished product, except for recording and adding in the end credits. And I'm pretty proud of what we've achieved. I made some mistakes at first, and wandered down quite a few technical blind alleys, but at the end of it all, it sounds as compelling as we had hoped.
Simple Harmonic Motion is a near-future speculative fiction story about an astronaut, her friend and colleague at Ground Control, and their experimental heuristic computer. I won't spoil it for you with any further details, but it is an exciting, high-tension story.
We're looking at Simple Harmonic Motion as "episode 0" of the Synesthesia Theatre series of audio plays. It will be given away free to everyone who joins our mailing list, or supports our Patreon. I think we can expect this to release within the next two weeks.
The official launch of the Synesthesia Theatre podcast is coming soon! We're looking to finalize scripts, cast, and go into production within approximately the next month. We will, of course, announce when we start releasing episodes here and on the mailing list.
As always, we thank you for your support.