Sleep Study didn't meet its fundraising goal. We're not going to dwell on it. We've got too much to do, and a big part of that is moving on to our next project.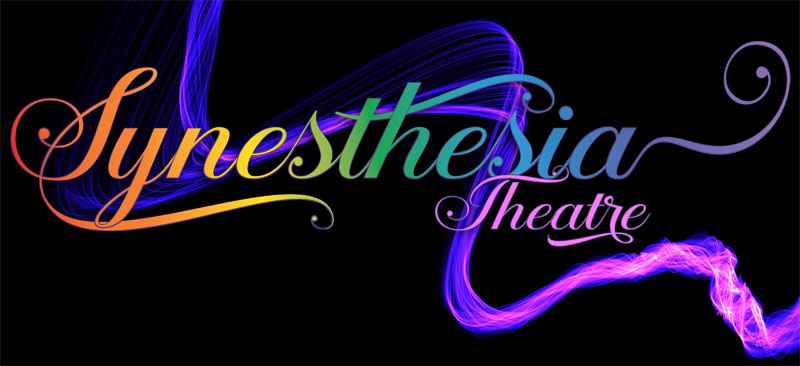 Synesthesia Theatre is an audio-drama podcast
We're going to be producing monthly audio-dramas with local Chicago talent, actors and writers, streamed as a podcast. Each audio-play will be twenty to thirty minutes long, many with a genre or speculative-fiction twist to them. Our second episode each month will be an interview with the cast of the episode, where we'll talk to them about their work, the play, and their other projects.
Twenty to thirty minutes long seems like a good length for an average commute. If you're on the El here in Chicago, you'll have time for two. This will not be a serial. Most episodes will stand perfectly well on their own, but we're not ruling out mini-series at some point.
It will be available free here on the blog, and you will be able to subscribe to it on iTunes or through our RSS feed.
Why "Synesthesia Theatre"?
Audio is a very different media than film or prose. We're going to be trying to paint a picture inside your skull. Listening will be the process of translating words and sounds into images — a movie inside your head. It is going to be a sensory experience.
How does this fit Burning Brigid's Mission?
Our first priority will be to provide you with consistent and entertaining stories. We're not about preaching, but we will strive to present listeners with diverse casts and characters that represent all people, regardless of race, gender, religion, or sexual orientation. We want you to hear stories about people who are like you, and people who are unlike you.
And we want you to be too entertained to notice the difference.
When do we get started?
Soon.
We're writing scripts, acquiring equipment, scheduling production, and reaching out to local performers. We want to get started as soon as possible, but we also want to have a few episodes produced before we start releasing them.
Give it a month, maybe.
If you want to be kept up to date on our progress, I would suggest signing up for our mailing list. That's where we'll be announcing the launch. We're going to have an exclusive audio-drama only given to the people on the list, and that's already 60% complete. It'll be available to those on the list before we launch the podcast.
If you're interested and you also want to support us, you are also invited to donate to our Patreon. Give as much or as little as you want, and you'll not only get the same information as the people on the list, but you'll get other exclusive content as well.
Either way, you'll be hearing from us soon.