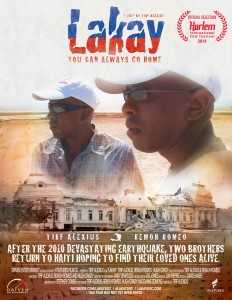 Something a little different for What to Watch: Lakay is a documentary that takes place in the immediate aftermath of the 2010 earthquake in Haiti. It tells the story of two Haitian-American brothers, Tirf Alexius and Remoh Romeo, who return to Haiti to search for their brothers. In the process, the story evolves beyond their immediate family. In the midst of devastation and pain, the brothers also find hope, resilience, and the spirit of Haiti alive in its people and in themselves.
Lakay opens in select cities in Chicagoland and Florida on October 17. Get information on showtimes and tickets here.
I caught up with filmmaker Tirf Alexius to learn more about Lakay:
Tell me the story of Lakay. How did it start?
Lakay began when my mother called me crying on the late afternoon the catastrophic earthquake struck Haiti. She wept and kept repeating "Haiti is broken!" It was at that moment I realized I may never see my brothers again. We knew we had to do something.
When you went to Haiti, did you have it in mind to film your experience from the beginning, or did the filming emerge spontaneously once you got there?
We wanted to film our experience and hopefully reconnect with the brothers. However, we also sought to capture more than what is normally shown on the news.  Once we arrived there, we quickly realized there was a much bigger story at play. It wasn't just about our family.
During the filming process, what moment or story was the most unexpected? Which had the most personal impact on you?
Well, the most personal aspect, we can't really get into without giving it away. We expected to receive resistance with the cameras. However, once the local Haitians realized we spoke Creole and were born in Haiti, they opened up. The access we were given was sort of scary.
What lessons did you come away with after filming was done?
It really had us assessing our needs and how much is taken for granted. We couldn't wait to see our children.
Did you discover new lessons during the editing and post-production process? What were they?
Post-production can be a beast. Unless you really understand the mechanics of delivery, for say theater or television, you never optimize your workflow and can end up spending more money than is necessary or compromise quality. Take the time to understand the needs of your post staff. The types of files they'll be outputting for you will have significant impact on the next person in the chain. Understand the entire cycle!
What about in terms of the emotional impact of the story? Any piece that "clicked" for you during the editing process?
I've seen the church clips many times but every time I watch the film in its entirety, I relive the moment of being back in Haiti physically and emotionally.
How did the experience of making this film change you?
Tell your story. Tell it passionately. Be sensitive to its potential impact.
How do you hope the film will change your audience? What lesson do you hope to impart to them?
We hope moviegoers will leave feeling inspired. If someone can leave the theater with the feeling that anything's possible, then we're happy. We also want you to go home and call your mom/dad and give your kid the biggest hug. Who you are is beautiful. Embrace it.
Lakay opens in select cities on Oct. 17th and 24th. Visit the Lakay website for more information on the film or for showtimes and tickets.