Jennifer Lenius joins Synesthesia Theatre as the voice of Chris, a compassionate and unflappable paramedic. She is also plays June Collins, a waitress, and Georgia Matthew's private security.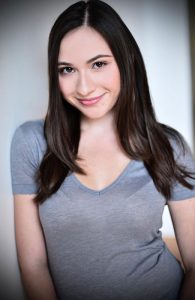 Jennifer is a Chicago actress both on stage & on screen. Cold Reboot is her first audio drama appearance. She received her Associate in Arts Degree from Harper College & was a recipient of the Mary Jo Willis Theatre Scholarship. Favorite performances there include: "The Heiress" (Catherine), "RENT" (Mimi), and "The Diary of Anne Frank" (Anne). She was last seen in Surging Films & Theatrics all-female military play "Decision Height" (Virginia) and Up & Coming Theatre's musical production of "Heathers" over the summer. A couple years ago she began discovering the world of film, and has since acted in over 20 different productions including a role on Chicago P.D. earlier this year. She currently stars as Delia Deaderson in The Deadersons, a YouTube web series filmed in Rockford, and most recently wrapped filming a faith-based comedy feature film "Heavens to Betsy." She can also be seen working for Premier Princess Parties, performing as popular princesses for children's birthday parties & special events!
Find her on Instagram @jenniferlenius.