David plays a restaurant host artificial intelligence in Synesthesia Theatre's Cold Reboot, which — according to him — seems more like a compliment than a role.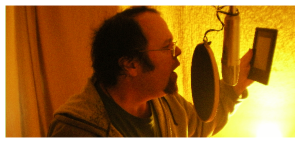 David Collins-Rivera has been involved in audio drama for several years. He is a regular on Slipgate Nine's amazing science fiction police procedural, "Edict Zero: FIS," and was a cast member of the late, lamented "This Thing Of Ours" — an audio drama about the Italian Mafia in 1970's NYC. He also has his own audio sitcom, called "Eddie K," about the bumbling misadventures of a crude B-circuit lounge singer.
He is excited to work with Burning Brigid Media on Cold Reboot:
"Cold Reboot" explores intriguing themes about disconnection and disorientation — not just with changing technology, but with our own past. Plot elements aside, who among us has never looked around at some point, and wondered how we got here; how it is that what we've done, or has been done to us, has brought this exact place or experience into our lives? It's an intriguing thought, and "Cold Reboot" allows for a very literal approach to the question.

BBM is breaking new ground, and helping to fill gaps in a shifting cultural landscape.  Women, LGBTQ voices, and POC are all underserved by modern media. These are people with compelling stories and challenging points-of-view, and no art or artform can survive without change, growth, and confrontation. If anything, I've been mostly a piece of traditional media and entertainment in America (especially in theater), playing roles that others have already explored, and helping to tell stories that many people simply don't feel connected to. I'd like that to change, not just for myself, but for everyone.