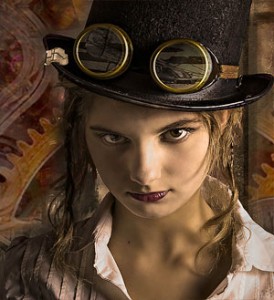 We hope you've had a happy 4th of July weekend. We've been busy — as previously mentioned, we're hard at work writing the story for the first audio drama mini-series that will launch our podcast, Synesthesia Theatre. Our writing process is very collaborative — I'm sort of "big picture," with a bent towards story concepting and the development of the themes and ideas we want to get across in the story. Michael is the details guy, writing the actual scripts once we've figured out the themes he's writing to.
So we have come together on a number of occasions during the writing process to collaborate on the overall plot and character arcs as Michael is plotting and writing the story. When we brainstorm together, our initial ideas build on each other and become stronger. So earlier today, we were breaking the story around the climactic events of the plot. And I'm really excited by what we came up with. No spoilers here — you'll have to listen to the podcast when we release it — but I will say that it's a wonderful subversion of expectations, both those of the characters, and those of our listeners. You will think you've seen this narrative and these old familiar tropes before; you will be wrong, delightfully so, making a strong statement about both the characters and our own habits of thinking. And we do it in a way that allows for — requires — genuine depth and complexity of character. We re-examine the ideas of "strength" and "weakness" and point out that we very often have very limiting preconceptions of what those things are.
Iron Horses Can't Be Broken is a steampunk western taking place in the 1910s American Southwest. We expect to start casting shortly; and with any luck we should be able to launch Synesthesia Theatre by fall.
Simple Harmonic Motion
Don't forget that our first audio drama is now available as a free download. Just sign up for our mailing list (also a good way to keep informed of casting calls, news, and the launch of Synesthesia Theatre) and we'll send you a link to the download.