We have completed taping for both the Alcohollywood and Toxic Bag podcasts. We had an absolute blast with both of them.
For Alcohollywood we watched and critiqued the 1995 film Copycat starring Sigourney Weaver and Holly Hunter. The film had its pluses and minuses, as you will hear in the podcast, and we discussed everything from female protagonists to the 90s-era concept of how computers work. There was a lot of laughter, intelligent critique, and snark. Michael and I also got to sample a really fantastic themed cocktail by Alchollywood mixologist Jared. Thanks to both Clint and Jared for having us on! Listen to the Copycat episode of Alcohollywood out now!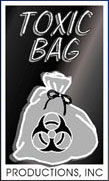 On the Toxic Bag Podcast we were welcomed by Steve and Joe and really got a chance to dive deep into our mission, how Burning Brigid came to be, and the story ideas and themes we're working with in Sleep Study. It was an incredibly robust conversation that covered a lot of ground, and we have to thank both the guys for being really interested in what we're doing, and asking tons of great questions. Our episode of the Toxic Bag Podcast will publish in the first few days of January.
Thanks to all our fans for being so supportive, and please share these podcasts with your friends!