Subscribe | Episodes | About | Collaborate
Like what we're doing and want to help out? Great! Here are a few ways you can get involved.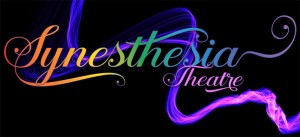 Subscribe to Synesthesia Theatre and listen to our work. Tell your friends. Share us about on your social media network of choice.

Review and rate us on iTunes. It'll help make it easier for other potential listeners to find us, and for us to turn those listeners into fans.

Pledge to our Patreon. It works just like PBS membership, and you can help us continue creating audio drama for as little as $1 per month. That's how we get paid, and subsequently pay the amazing talent we work with. And you can get cool bonus content for doing so.
However you choose to support us, you have our heartfelt thanks.