Amanda plays "Florence Bartleby" in Synesthesia Theatre's first serial, Iron Horses Can't Be Broken. Florence is the youngest sister of British nobleman Alton Bartleby, sent away at a young age to America by her brother, and determined to establish her own security through marrying into the household of the American industrialist Konings.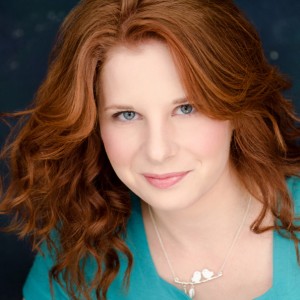 Amanda is a Chicago-based actor, originally from Indianapolis where she earned her BA in Theatre from Butler University. She is a company member and talent coordinator with Dream Theatre Company in Lincoln Square, where she has appeared in and assisted with multiple productions. Her recent credits include voiceover work for Adagio Teas, appearances in the viral #SelfieGuy video series, commercial work for Innovative Express Care, and local theatre productions at Oil Lamp Theatre, Theatre-Hikes, and Gorilla Tango Theatre. She recently appeared as Sally Applewhite/Mary in It's a Wonderful Life: A Live Radio Play at Oil Lamp Theater in Glenview. She will be appearing in a yet to be announced show at Dream Theatre Company in the spring.
She owes much of her drive and success to fellow actor and fiancé Jonah Winston, as well as the support of her family and friends. To keep up with Amanda's latest projects check out www.amandalynnmeyer.com.